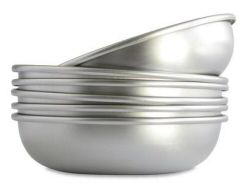 At Basis Pet we created our stainless steel dog and cat bowls were created with your pets health and well being in mind. Each bowl is manufactured in the USA using food grade stainless steel that is USA sourced.
Even the design of our bowls was created with your pets comfort in mind. The rounded corners help ensure your pet is able to easily get every bit of food. The straight sides help to keep food and water in the bowl and not all over your floor. Our cat bowl is an anti-whisker stress design.
After the manufacturing process is complete we test each batch of bowls for lead, mercury, and cadmium by an independent lab which is third party accredited by the Consumer Product Safety Commission (CPSC).
    100% Made in the USA
    We only use Food Grade 304 series stainless steel (also referred to as 18/8).
    Safe for Humans or Pets.
    Our pet bowls are dishwasher safe and also easy to clean by hand.
    Rounded corners prevent food from getting caught.
    30-Day Money Back Guarantee & Hassle Free Returns.
We also have Bowl Stands and Holders for your pets dishes Made in the USA. Plus a selection of safe dog toys also Made in the USA.